Change this ChatGPT setting immediately to prevent your data from training OpenAI
When OpenAI made its ChatGPT generative AI product available to users, it didn't include settings that would allow them to safeguard their data. And OpenAI used the data from those conversations with the chatbot to further train its language model. As months passed and ChatGPT got more popular, privacy watchdogs and regulators started paying attention to how OpenAI collects user data. And they started demanding that OpenAI take action to protect that data.
Italy banned ChatGPT over privacy matters several weeks ago. The country then restored access in the country, as OpenAI finally added a setting that lets users keep their data private from the ChatGPT's training algorithms. ChatGPT users worldwide can take advantage of the new privacy setting with ease. It's just one toggle that you need to turn off to protect your data. But not all ChatGPT users might like OpenAI's implementation of the privacy-improving feature.
How to stop ChatGPT from using your private data
You'll need to log into your ChatGPT account in a browser to change the privacy settings. After that, follow these simple steps to opt out of ChatGPT data sharing. You'll notice that OpenAI tries its best to hide the privacy-enhancing feature.
Click your account in the bottom left corner
Click Settings
Click on the Show menu next to Data Controls
Toggle off the Chat History & Training
This is also the menu where you can export your ChatGPT data and delete the account if you want.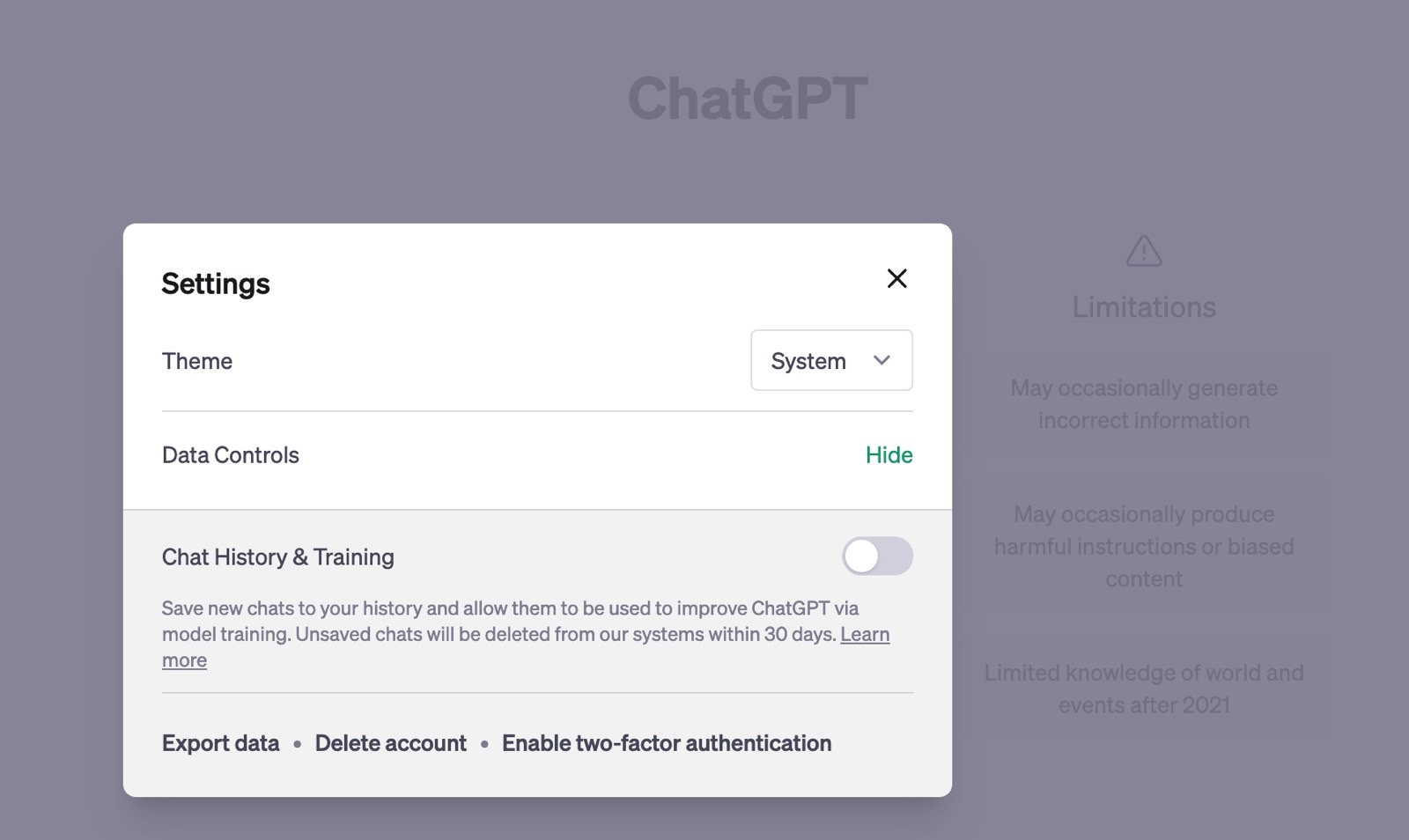 What happens with your ChatGPT chat history now?
The problem with turning off OpenAI's ability to collect and use your data to train ChatGPT is that you'll lose your chats after 30 days. Here's what OpenAI says about this ChatGPT privacy feature in the prompt above:
Save new chats to your history and allow them to be used to improve ChatGPT via model training. Unsaved chats will be deleted from our systems within 30 days.
Moreover, OpenAI has a FAQ section that provides more details about these ChatGPT privacy improvements.
If you stop ChatGPT user data collection, the company will retain your data for 30 days. It'll review your chats only while monitoring for abuse, but it won't use the data to train ChatGPT.
The problem here is that ChatGPT will not let you keep the conversations either. After 30 days, your chats will be gone:
When history is disabled, the conversation will not appear in your history (on the left-hand side of the screen) and cannot be recovered. When chat history is disabled, we will retain new conversations for 30 days and review them only when needed to monitor for abuse, before permanently deleting.
OpenAI also notes that it's working on a ChatGPT Business account that will be available in the future. This type of account will let you keep your chat history even when you disable user data collection:
We are working on a new offering called ChatGPT Business that will opt end-users out of model training by default. In the meantime, you can opt out from our use of your data to improve our services by filling out this form. Once you submit the form, new conversations will not be used to train our models.
What does OpenAI do with your ChatGPT data?
As for the data you already shared with ChatGPT before the new privacy settings came into play, well, you can't delete it.
You can decide to start sharing data with OpenAI at any point in the future by following the steps above and turning Chat History & Training back on. But there's an even simpler way. The banner above will cover your chat history if user data collection is turned off. Just click the green button that says Enable chat history to start sharing your data with Open AI.
Here's how OpenAI says it uses the data that you share:
Our large language models are trained on a broad corpus of text that includes publicly available content, licensed content, and content generated by human reviewers. We don't use data for selling our services, advertising, or building profiles of people—we use data to make our models more helpful for people. ChatGPT, for instance, improves by further training on the conversations people have with it, unless you choose to disable training.
Sadly, there aren't better ways to manage your ChatGPT privacy at this point. But, hopefully, things might improve in the future.