Sanus for Sonos Era review: Put your music where your ears are
At a glance
Expert's Rating
Pros
Attractive, minimalist design
Quick and easy to assemble (15 to 30 minutes tops, with clear instructions)
You'll have lots of speaker placement choices to achieve optimal performance
Wide and weighty bases lessen the chance of accidental tipping
Cons
Hiding the power cord in the stand's cable channel reduces its usable length
Make sure you don't get an adjustable Sonos Era 300 stand from the early production run, because they have a problematic locking mechanism
Our Verdict
Whether you choose the fixed-height or height-adjustable model, these Sanus stands will literally and figuratively elevate the performance of your Sonos Era smart speakers
Price When Reviewed
Fixed-height stands for Sonos Era 100: $89.99 each or $139.99 per pair; Adjustable-height stands for Sonos Era 100: $119.99 each or $219.99 per pair
Best Prices Today: Sanus for Sonos Era 100 speaker stands
Crutchfield (fixed-height model WSSE11)
$89.99
Sanus (fixed-height model WSSE11)
$89.99
If you're buying into the nifty and new Sonos Era 100 and/or Sonos Era 300 speakers but haven't settled on the perfect spot to place them, give speaker-stand maker Sanus some hard-earned bread. Within 15 minutes of easy assembly time (per stand), you'll be enjoying a heightened listening experience—literally and figuratively.
While it's true that Sonos boasts just-about-anywhere placement for both Era models, thanks to their small-ish footprints and integrated Trueplay room-tuning skills, mounting the speakers to these purpose-built stands will eliminate all kinds of performance bad vibes. The stands—which can be purchased singly or in pairs—allow the speakers to breathe, free from any tone-coloring vibrations and reflections from whatever furniture you might otherwise set them on. Whether you purchase the fixed-height or height-adjustable models, they'll put your speakers at the optimal height for your listening position.
It's particularly important that you find just the right location for the multi-driver, multi-directional Sonos Era 300 if you want to maximize its Dolby Atmos spatial music capabilities. In my own home, I've found a single Era 300 performs best when centered in the listening space, equidistant from the left- and right-hand sidewalls and within 9 to 14 feet of where I'm sitting.
This review is part of TechHive's in-depth coverage of the best smart speakers.
How much do Sanus for Sonos speaker stands cost?
Jonathan Takiff/Foundry
Sanus, a member of the gargantuan Legrand AV family of brands, offers cosmetically matched, sturdily constructed stands and wall mounts for virtually every Sonos component, including its soundbars and the Sonos Amp. This time, Sanus has beaten even Sonos to market. Sonos-branded stands for the Sonos Era 100 and Sonos 300 won't be available until late June. While they promise to weigh slightly less, they're expected to cost slightly more than the products reviewed here. Legrand announced tilt-and-swivel wall-mount supports for the Sonos Era 100 and Sonos Era 300 on May 9. Like the floor stands, the wall-mounts are available in singles and pairs.
So how much do Sanus' products cost? A single, fixed-height (34-inch) stand for the Sonos Era 100 (Sanus model WSSE11) is priced at $89.99 or $139.99 for a pair (Sanus model WSSE12). The height-adjustable stands for the Sonos Era 100 (Sanus model WSSE1A1) cost $119.99 each or $219.99 for a pair (Sanus model WSSE1A2). These can be raised from 25 to 42 inches high.
A single fixed-height (32-inch) stand for the Sonos Era 300 (Sanus model WSSE31) costs $119.99 or $199.99 for a pair (Sanus model WSSE32). The height-adjustable version of the Sonos Era 300 stand is priced at $179.99 each (Sanus model WSSE3A1) or $299.99 for a pair (Sanus model WSSE3A2). These are adjustable over the same range: 25 to 42 inches high.
Are Sanus for Sonos speakers stands easy to assemble?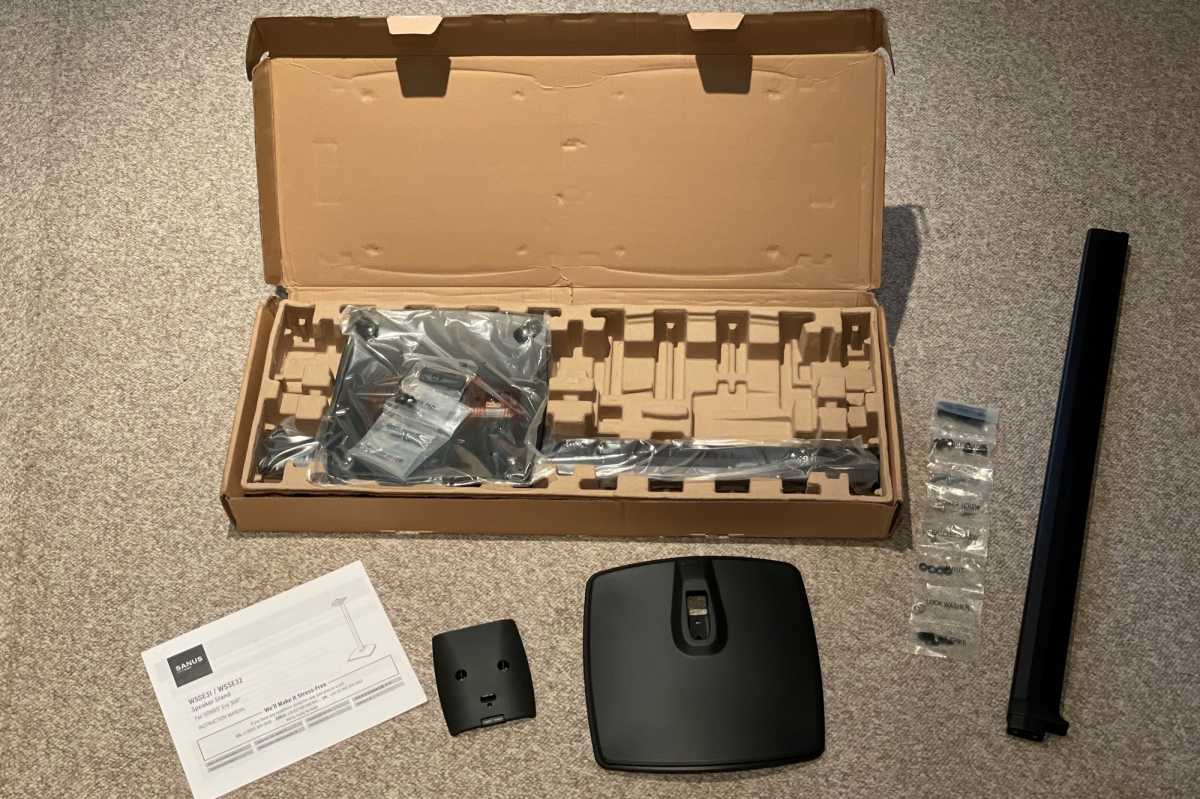 Jonathan Takiff/Foundry
Every model is available in your choice of matte black or white to match the color of the Sonos Era speaker you've purchased. The Sanus stands are fabricated mostly from durable steel and extruded aluminum, and they have large, heavy bases to keep them stable and upright. You'll have the option to damp the bottom base plates with either screw-in rubber pads or height-adjustable metal spikes for carpeted floors (spikes do a better job of decoupling the speaker from the floor, but rubber pads are the better choice for hardwood floors. Both varieties of feet are furnished in the helpfully separated and labeled parts bag.
Sanus' thoughtful design includes a cable-management channel in the speaker stand's shaft, which will hide the speaker's power cord until it emerges from the bottom backside of the base. Be sure to insert the plug-end of that power line through the opening in the base at the outset of your stand assembly process, as it's impossible to snake the line through after you've screwed the shaft and base together. (This is the only part of the assembly job where two sets of hands are better than one.) You'll also want to know that you'll be left with just three feet of power cord when you're done, so you might need extension cords if your AC outlets aren't close enough.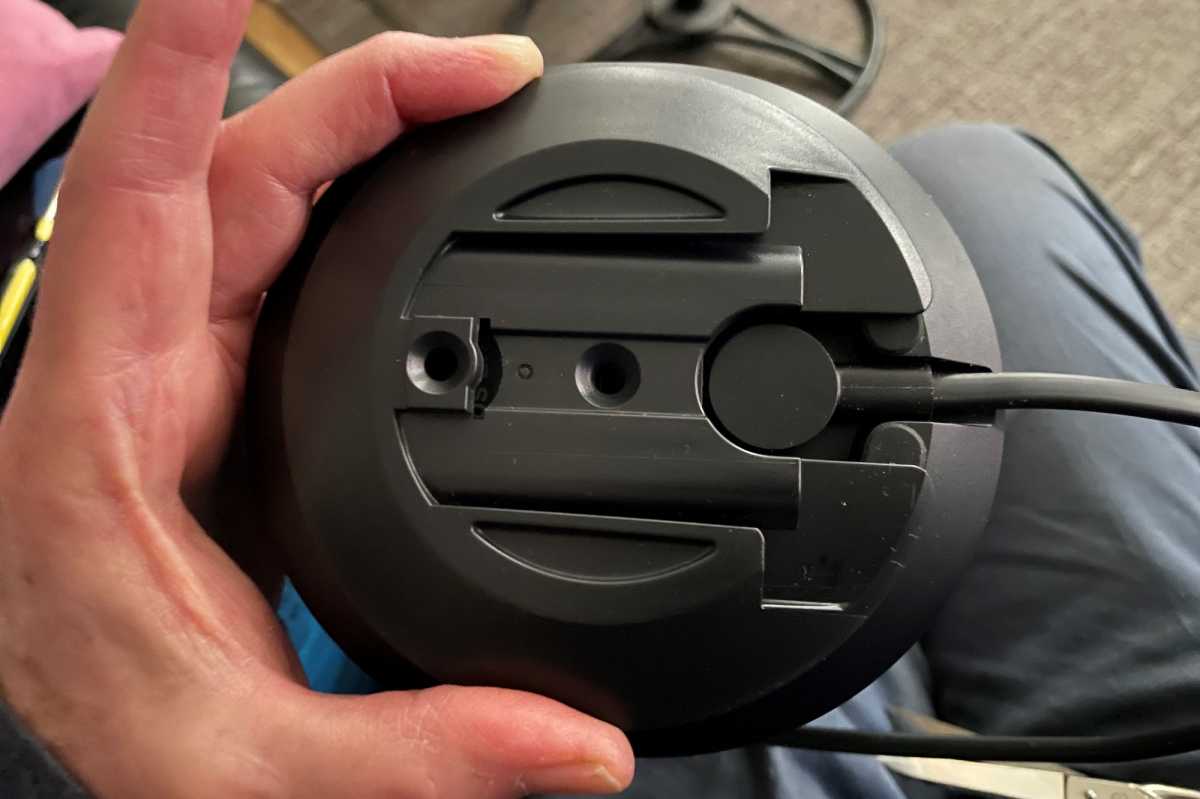 Jonathan Takiff/Foundry
Whichever stand you buy, you'll fix a mounting bracket to the bottom of the Sonos speaker (a two-piece lock-together, metal-and-polystyrene assemblage for the Era 100, a one-piece molded polystyrene piece for the Era 300). These mount in turn to the top of the pillar, which will leave the speaker appearing to float over the stand. More than just aesthetically appealing, it results in even-tempered sound dispersion that's airier, for lack of a better term, than when I listen to the same speakers sitting on tabletops. The low-frequency detailing of the Era 100's already exceptional bass drivers proved even more palpable when stand-mounted.
With the Era 300, on the other hand, I curiously found it necessary to punch up the bass control in the Sonos app after stand-mounting the speaker. That suggests to me that the Era 300 was factory EQ'd for play on a very resonant wood table.
Which Sanus for Sonos stand is right for you?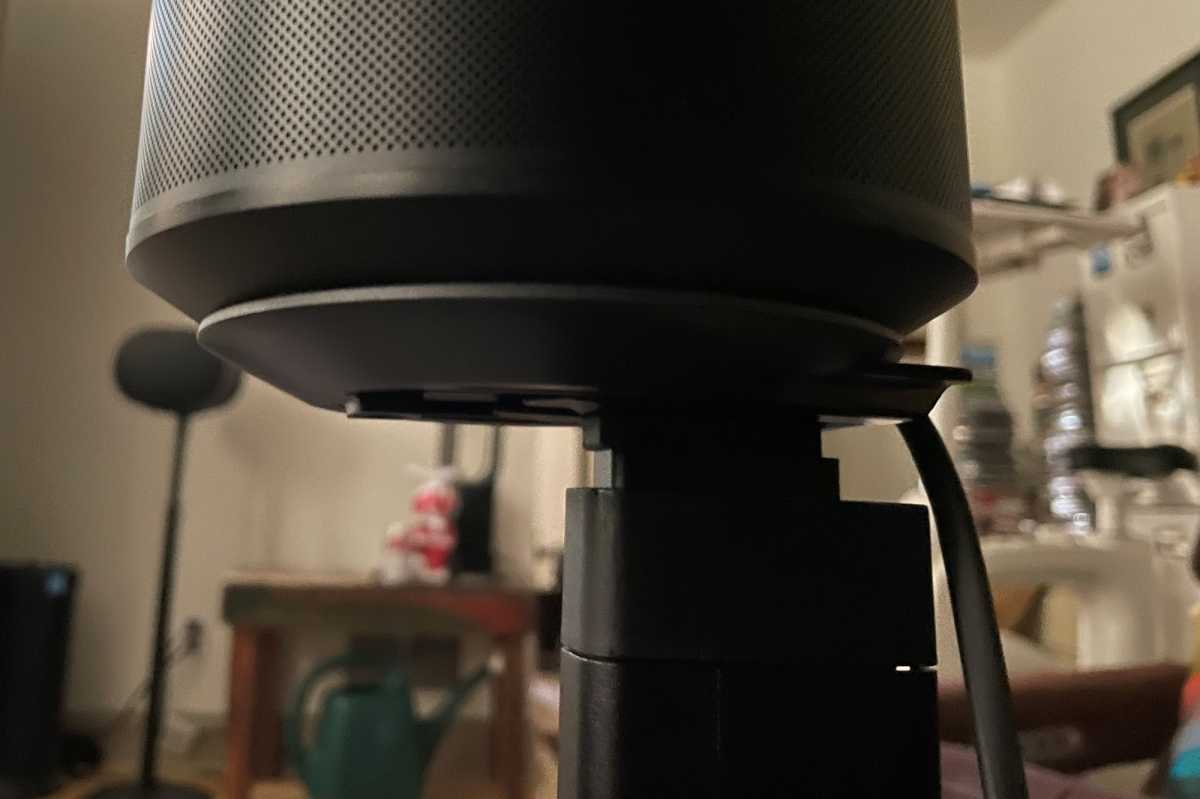 Jonathan Takiff/Foundry
The fixed-height Sanus stands for the Sonos Era 100 and Sonos Era 300 are peachy perfect for a setup where you're sitting across from the speakers on a standard-height sofa. Not only does the setup sound great—beaming exactly at ear level—but the one-piece shaft lends the stand an extremely neat and trim look. And you can more confidently grip and move that stand around, should you want to re-orient its placement.
Sanus' height-adjustable are the preferred way to go if you're facing the music from an especially low-slung (think Italian modern) sofa or a higher desk chair. And an adjustable stand is the only way to go if you'll be using either set of speakers as the surround channels in a home theater setup. They allow you to elevate the speakers so they fire over the back of your seating arrangement. I discovered that if even just a little of the rear speaker's grille is blocked by the seat's back, the speaker's sound quality is significantly compromised, muffled, and diluted in volume, directionality, and tonal quality.
What's the bottom line on Sanus' stands for Sonos Era speakers?
You wouldn't buy a hot sports car and then outfit it with re-tread tires, so why invest in great speakers only to plop them on a rattling piece of furniture? With your Sonos Era-series speakers mounted to Sanus' well-engineered stands, you can put the pedal to the metal and drive home all their sonic potential. It's a winning combination.
A quick word about quality control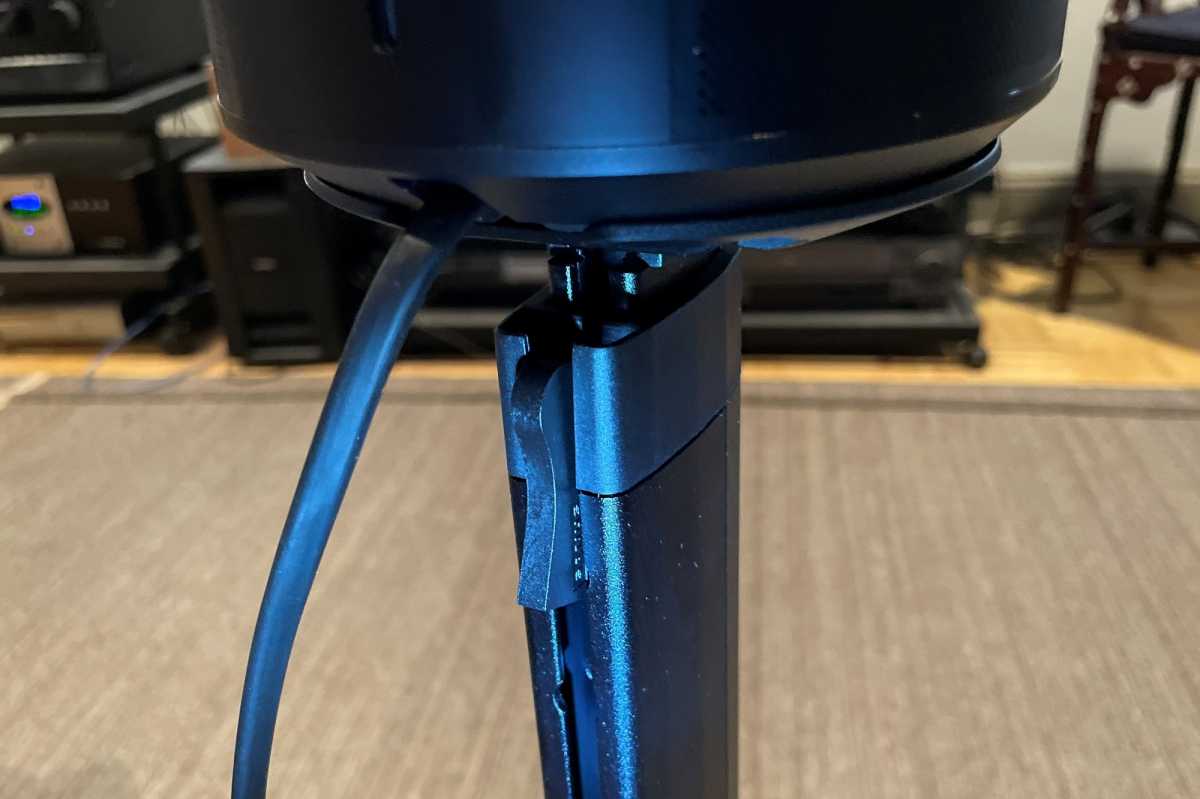 Jonathan Takiff/Foundry
Sanus provided me with samples from an early production run of its height-adjustable stands for the Sonos Era 300, and I encountered a small problem: The height-adjustment locking mechanism wouldn't hold for long, allowing the shaft to slowly slip down when I set the height in the 30- to 34-inch range. That same stand held the speaker up just fine at higher positions.
Other reviewers, and at least one early buyer, have apparently had similar experiences. As a result, Sanus issued a product recall and paused sales of this model until it can make modifications. The instructions that come with the stand stipulate a speaker weight limit of 10 pounds, and the Era 300 comes dangerously close to that at 9.85 pounds. (The smaller Sonos Era 100 weighs 4.4 pounds.)
If you purchase a height-adjustable Sanus Speaker Stand for Sonos Era 300 and encounter a similar problem, ask for a product exchange, because yours might have slipped through the cracks.
Updated May 9, 2023 to report that Legrand AV has added wall mounts for the Sonos Era 100 and Sonos Era 300.