TP-Link EC71 Kasa Spot Pan Tilt review: A budget security cam
At a glance
Expert's Rating
Pros
Very inexpensive
Easy to use, with solid video quality
24/7 video recording option (with a user-provided microSD card)
Cons
Sluggish pan/tilt operation
Motion tracking wasn't effective
Tops out at 1080p resolution
Our Verdict
The TP-Link EC71 is an extremely affordable way to get smart pan/tilt features in an indoor video camera.
Price When Reviewed
$34.99
Best Prices Today: TP-Link EC71 Kasa Spot Pan Tilt
$34.71
At a mere $35, TP-Link's EC71 Kasa Spot Pan Tilt pushes the world of pan/tilt security cameras to new levels of value. On par with perennial price leader Wyze Labs, whose Cam Pan v3 is now $34), the new EC71 is an incremental upgrade over the Kasa EC70 (which is still on the market at $30).
The overall design is the same—a three-inch sphere mounted atop an inch-thick cylindrical base, usable exclusively indoors—but the EC71 is black instead of white, like the EC70. New features to the EC71 are minor but worth enumerating: First, audio has been upgraded to support two-way audio as well as supporting sound detection in addition to the usual motion detection features. Perhaps most notably, microSD card support expands to 256GB maximum, giving you four times the capacity offered by the EC70. (No card is included with the kit, however.)
This review is part of TechHive's in-depth coverage of the best home security cameras.
The Kasa setup process is largely the same as its other smart home gear, asking you to select the correct product in the Kasa app, and then manually connecting to a temporary Wi-Fi network before bridging back to your home Wi-Fi network (2.4GHz only). The process is slightly outdated, but I encountered no trouble along the way.
The camera records 1080p video; only the vertical field of—113 degrees—is specified. In regular use, the camera has a very wide-angle view, effectively capturing a large swath of the room. Of course, the pan/tilt feature lets you adjust that angle as you'd like, although I found the camera responded to such commands in a surprisingly slow and halting fashion. Overall, video quality is quite good, even at the more moderate 720p setting, though standard black-and-white night-vision clips are slightly on the dim side.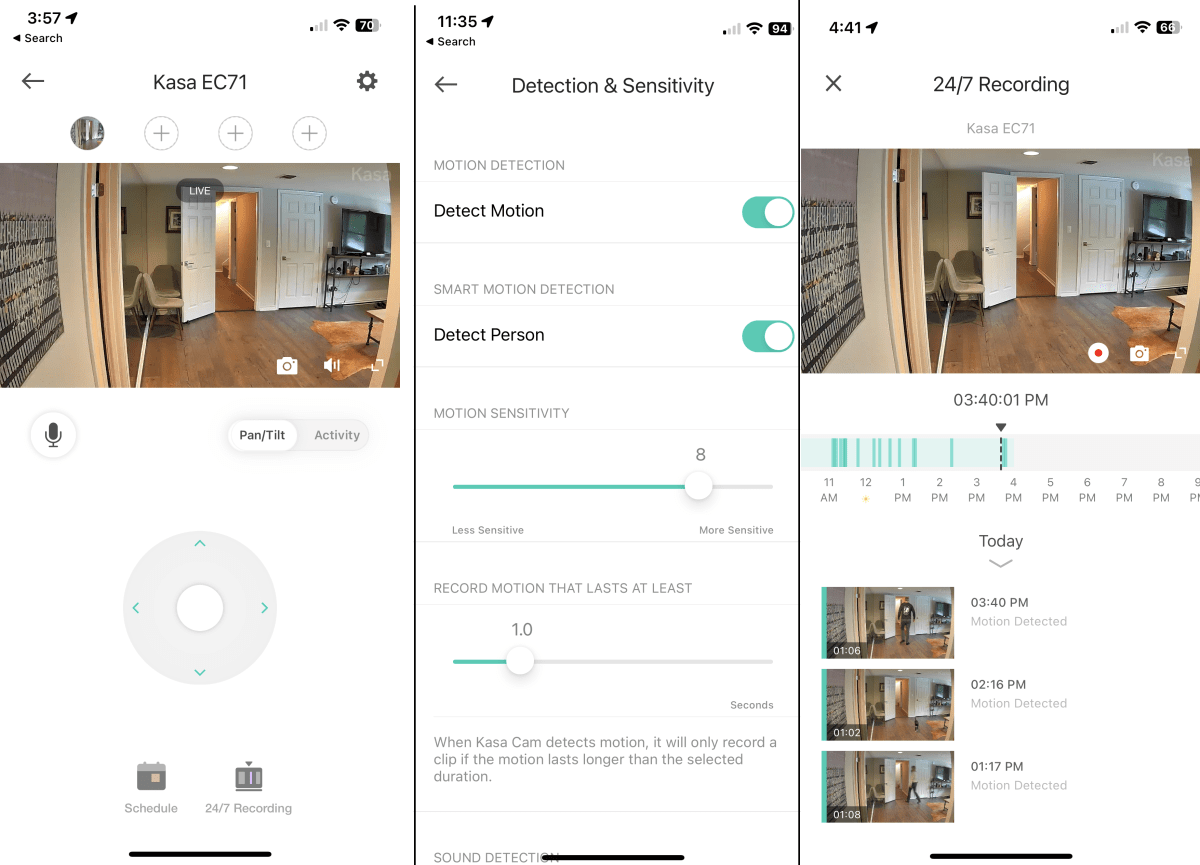 Christopher Null/Foundry
You'll find a bevy of options in the app, including the ability to record on motion only (all motion or just people) or to record 24/7. An activity zone option lets you set the area to monitor, and a motion-tracking feature lets you set the camera to follow anything that moves in the frame. There's also a patrol mode that instructs the camera to periodically move between up to four programmable waypoints, giving you the ability to cover an entire 360 degrees of action with a single camera. "Layover" time spent at each waypoint can be set between 1 and 10 minutes.
The playback interface for recorded videos is easy to navigate: In 24/7 mode you're given a timeline upon which you can endlessly scrub in reverse, with motion-detection events clearly denoted in the timeline as well as thumbnailed and time-stamped underneath. The interface makes it very easy to browse the video history or jump right to a clip.
Christopher Null/Foundry
For 24/7 recording, you'll need to install a microSD card, though this will consume about 250MB of space per hour at 720p resolution. That's less than 5 days for a 32GB card and a little over a month for a 256GB card (after formatting); so, plan your card capacity accordingly. Kasa also offers a cloud storage service called Kasa Care. For $3/month or $30/year, you can access 30 days of cloud-based video history, share video from the app, and get snapshots in your push notifications. For $10/month or $100/year, support is extended from one camera to 10. It's worth noting that you can't manually record clips unless you subscribe to Kasa Care, although if you use the 24/7 recording option that might not matter much.
I had an overall positive testing experience. Aside from some sluggish operation on the pan/tilt operations, I also found that the motion tracking feature didn't work well and it rarely managed to follow activity around the room, even if the movement was slow. Given the extremely affordable price tag, however, those are minor complaints that can be forgiven, at least in part.
This camera is easy to use and provides excellent video quality, despite its comparably low resolution. If you need video quality better than 1080p, you'll need to look elsewhere and spend more, but users with casual indoor monitoring needs—think a pet-monitoring camera where you don't know where the pet will be—will find this a bargain that's hard to pass up.