Virgin Galactic Cautiously Returns To Flight
After Richard Branson delivered some inspiring words from his seat aboard SpaceShipTwo Unity, he unbuckled himself and started to float around the vehicle's cabin along with three other Virgin Galactic employees. Reaching an apogee of 86 kilometers (53 miles), the passengers enjoyed four minutes of weightlessness during the July 2021 flight that was live-streamed over the Internet to an audience of millions. After years of delays, SpaceShipTwo had finally demonstrated it was capable of taking paying customers to the edge of space. As far as victories go — it was pretty impressive.
Yet despite the spectacle, weeks and months went by without an announcement about when commercial flights of the world's first "spaceline" would finally begin. Now, nearly two years after Branson's flight, Unity has flown again. Except instead of carrying the first group of customers, it performed the sort of un-powered test flight that Virgin Galactic hasn't performed since 2017. Clearly, something didn't go to plan back then.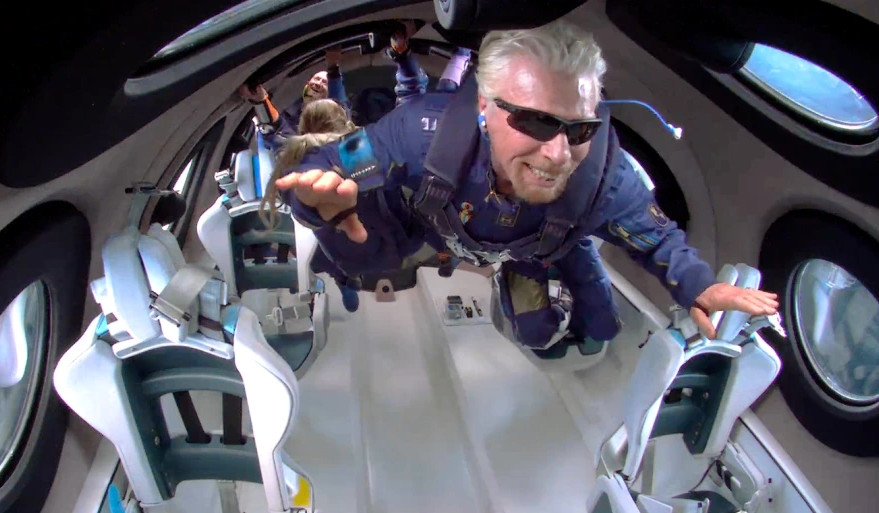 The company is being as tight-lipped as ever, saying only that this test flight was necessary to "evaluate the performance of the spaceship…following the modification period." The exact nature of these modifications is unclear, but for some hints, we could look at the New Yorker article from September 2021. It alleged that, unwilling to derail Branson's highly publicized flight, Unity's pilots decided not to abort their ascent despite several warning lights in the cockpit alerting them that the vehicle's trajectory was deviating from the norm. Virgin Galactic later denied their characterization of the event, but the fact remains that Unity did leave its designated airspace during the flight, and that the Federal Aviation Administration grounded the spacecraft until an investigation into the mishap could be completed.
The FAA cleared Virgin Galactic to resume flights shortly after, but by December, they had new problems. Investors decided to pursue legal action against the company, claiming that Unity and her sister ship Eve were closer to proof-of-concept prototypes than the commercially sustainable vehicles they were lead to believe. According to an article by The Guardian, a Virgin Galactic engineer was even on record saying that wings of the vehicles were covered with so many stress fractures that they looked like "cracked eggshells" on close inspection.
By this point, Virgin Galactic had already announced their fleet would enter into an "extended maintenance period" to address a "possible reduction in the strength margins of certain materials." At the time the company said it expected this period to last until Q4 of 2022, after which they would kick off the start of commercial service with a research mission paid for by the Italian Air Force. Obviously those dates slipped, with the most recent official statements indicating they hope to fly the Italian Air Force's mission in Q2 of this year.
It's not hard to imagine that the issues found during and immediately after Branson's July 2021 flight required more time than anticipated to address. Even still, the modifications will only be a stopgap. The company has previously admitted that the current version of their spacecraft won't be able to hit the flight cadence necessary for long-term commercial service, and that a more capable variant of the spaceplane will need to be developed if they are going to achieve weekly flights.
We've reported previously on Virgin Galactic's slow and painful progress towards commercial service. The company has gone through years of delays, several redesigns, and the tragic loss of one of its test pilots in 2014 to get where they are now. In many ways, it's remarkable they've managed to keep pushing ahead as long as they have. It's still unclear if there's a viable future for this sort of suborbital space tourism, but with the blood and tears it's taken to get them this far, we'd say Virgin Galactic deserves to give it a shot.